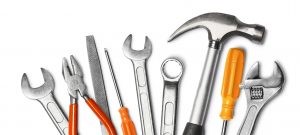 Repairs and Maintenance
All residential properties are subject to gradual degradation and it is inevitable that repairs and maintenance will be required from time to time. Internal and external paintwork, carpets, curtains, tap washers, light fittings, stoves, heaters, hot water cylinders and even roofs have limited life expectancies and all will need to be repaired, repainted or replaced in due course.
As Property Managers our 'Appointment to Manage and Let Residential Property' authorises us to deal with the day to day (generally minor) repair and maintenance problems but within the constraints of an agreed budgetary cap of $500.00 in any one month or the equivalent of One weeks rent. Should work be required that is valued in excess of this amount, then the owner, or their representative, will be promptly advised and further instruction sought. Should the problem however be one of an urgent nature (like burst water pipes) and likely to cost well in excess of the budgetary cap, we would nevertheless effect immediate repairs, again in accordance with our Authority instructions.
Most of these small repair or maintenance jobs are carried out at our discretion and without reference to the owners. We are of course mindful of the owners need to keep such expenditure within reasonable bounds and in making any decision to carry out work we weigh the owners need for restraint against the health or safety needs of the tenant and the obligations and requirements of the Residential Tenancies Act. Section 45 of this act requires the Landlord to maintain the premises in a reasonable state of repair and to comply with any other buildings, health or safety enactments.
Our company has secured the services of a wide range of qualified tradesmen who are able to promptly attend most of the repair or maintenance issues that arise on a daily basis. We have negotiated excellent rates with most of these trades' people so that costs are kept at a reasonable level without compromising standards of workmanship! Owners can of course nominate their own trades' people; our only stipulation being that they must be suitably qualified to carry out the work.
Major Repairs or Maintenance
Our R and M service is often extended to include obtaining quotations for major works in or about the managed property (e.g. exterior painting or interior decoration) and the limited supervision of such works. Unfortunately we are not qualified Project Managers so we can only give a layman's approval on completion of the work and naturally we cannot accept any liability for such supervision. As the cost of these major repair or maintenance works is generally well in excess of the limit agreed in our agency authority, arrangements for payment must be made prior to the commencement of the work. The most common arrangement is for the funds to be forwarded by the owner in advance to our Trust Account where it is held pending completion and final approval of the work at which time we will pay it out to the contractor.
Works Orders
Once we have established that a repair or maintenance job is required we issue the relevant tradesperson a Works Order. The order details the property, the tenant; the contact phone numbers of the tenant and of course the work to be done. The majority of our Works Orders are faxed from our Property Managers to the tradesman concerned but we are increasing finding that many contractors prefer to receive email instructions.
Payments to Tradesmen
Once the repair or maintenance job has been completed the tradesperson concerned will forward their account to us for payment. Firstly we check that the job relates to our Works Order and that the sum being charged is fair and reasonable. Should we consider that we have been overcharged then we will go back to the contractor for an explanation and an adjustment of account if necessary. We also check that the job has been done to our satisfaction which may be as simple as giving the tenant a phone call or, for more complex issues, making a visit to the premises and conducting a physical inspection of the work.
When we are satisfied in all respects that the job has been completed we will make a cheque payment or more commonly these days a direct credit by internet banking, from our Trust Account debiting the funds held in the name of the owner. Should there be insufficient funds then the payment will be held over until enough rental income has accrued to make the payment.
Occasionally a larger than normal payment may require us to make extended credit arrangements with a particular contractor, usually by way of several payments over a two or three month period. As, over many years, we have developed extremely good relationships with our contractors there is seldom any problem with such arrangements.