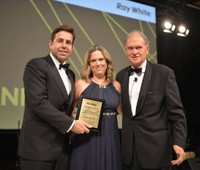 Ray White Property Management Support Person of the year 2017
Our very own Nicole Banks was awarded Property Management Support Person of the year, at the Annual Gala Awards ceremony in 2017. Nicole, who won the Property Manager of the Year Award in 2013, was recognised for her support role of the team and her ability to introduce innovative procedures to help her team in their performance.
Brittany Garner was a finalist, being ranked in the top 4, as New Start Property Manager of the Year 2017 (for property managers with less than 18 months experience).
Ray White have 156 offices throughout New Zealand, so to do so well with these awards is a magnificent achievement for our office.
One of the most important matters we commit to, as a company is to ensure that our team are equipped with the best skills and knowledge that we can provide. We regularly attend conferences and participate in ongoing training to improve ourselves, our systems and our service to our investor clients.
NZQA Certificate in Residential Property Management Level 4 Nicole Banks, Melissa Cox and Katie Cato
Our team are constantly improving their skills to ensure we keep at the very top of our game.
In 2014 Nicole Banks and Melissa Cox decided to develop their skills-set even further and enrolled to study for the NZ Certificate in Residential Property Management (Property Manager) (Level 4). The programme covers a multitude of topics including Tenancy disputes, land ownership and transfer law, marketing and a choice of specialist residential property management areas.
The qualification, achieved by both Nicole and Melissa, is the highest qualification available to a property manager in New Zealand. It was a year of solid study and correspondence work, but the successful result is a testament to their commitment to their career. Katie Cato also holds the NZQA Certificate, which she completed while working in property management, in Christchurch. These three professionals are the only ones in our market area to hold such a qualification We are very proud of the three of them and whenever we grow our team, or change any personnel, we have an expectation that they too will complete the qualification .
Ray White Property Manager of the year 2013
At the 2013 National Awards evening for the Ray White Real Estate Group, Nicole Banks was awarded Property Manager of the year.
This was a huge honour and achievement considering there are over 130 offices within the New Zealand Network.
The four main criteria that the recipient for this award is judged on are:
Growth (in business)
Service (to owners and tenants)
Rent Arrears Control (with tenants)
Initiative (in introducing new ideas and services)
Nicole is a great advocate for professional property managers and keeps right up to date with changes in legislation, technology and services to ensure she provides the ultimate experience in managing property owners investments. Hence the award.